25 Maple Street
Holyoke, MA 01040
(413) 532-2831
CALL (413) 532-2831 TODAY TO SCHEDULE A TOUR AND SEE ALL OUR SCHOOL HAS TO OFFER!
Fundraising
To supplement our financial needs, the school sponsors two major fundraising projects during the year. A calendar raffle in November and a student Walk-A-Thon which takes play in May. 
Our PTO holds a monthly Spaghetti Supper from September through May.  These suppers are open to the public and parent volunteers are welcome and needed to help each month.
In March, the school will be holding a 110th School Anniversay Gala.  The exact date and more details will be posted at a later time.
SHOPWITHSCRIPS
ShopWithScrip Fundraising is an easy fundraiser to participate in. Mater Dolorosa School will order gift cards at a discount, and MD families pay face value for the gift cards. That difference is an instant rebate for our school.
There are two ways to order.  Fill out the 
order form
, place it in an envelope with payment and return it to school by the dates listed below. Label the envelope ShopWithScrip Attn: Andrea Kukucka or go to ShopWithScrip.com and create an account using the enrollment code 54EL896L31738 and place an online order by the dates listed below.
Orders will be placed on Thursday's. Please have your order form and check sent to school/order placed online by Wednesday, October 4, November 8, 15, 22, 29, December 6 and 13. Starting in January, orders will be placed the first Thursday of each month. 
No Cost Fundraising
The school and PTO participate in several fundraising programs where schools earn money simply by parents and students collecting, using a specific search engine, or shopping at specific stores. Our school participates in several programs outlined below.
The PTO is enrolled in the General Mills Box Tops for Education program. Clip Box Tops from hundreds of your favorite General Mills products and send them in to the school. Each Box Top is worth 10¢. Visit Box Tops for Education at http://www.boxtops4education.com for more information. The Box Tops website also has a Marketplace where school's may earn a percentage of purchases from over 100 major retailers. Click here to view a listing Box Tops Marketplace vendors and their percentage contribution.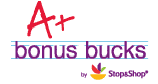 Mater Dolorosa School is also enrolled in Stop&Shop's A+ Bonus Bucks program.
Visit https://stopandshop.com/member-benefits/. Follow the prompts to create your online account.  You'll need your 13-digit Stop & Shop Card number and the School ID #05109.  You must re-register our school number with your card.  It does not automatically carry over from year to year.
Mater Dolorosa School also collects Campbell Soup labels. Please save your labels for a turn in date or send them into the school.  
  •Are you a frequent shopper Amazon? Switch to smile.amazon.com and earn $$ for our school simply by registering or school with the smile.amazon.com portal. Your current account works in the same way, with the same pricings and our school earns a percentage of eligible purchases. Visit smile.amazon.com for more information.
---